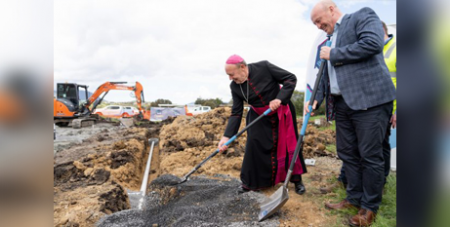 Hobart Archbishop Julian Porteous has blessed land at Herdsmans Cove, Tasmania, with a house to be built on the land that will provide employment for young, vulnerable Tasmanians looking to enter the construction industry. Source: Hobart Archdiocese
Land for Build Up Tassie's Charity House was donated by the Tasmanian Government and more than 35 local businesses and individuals have pledged labour and materials to support construction of the home, which will be built by the archdiocese's St Joseph Affordable Homes.
Community Services, Infrastructure and Housing deputy secretary Peter White joined Archbishop Porteous in a symbolic gesture of lending a hand by shovelling gravel into a pipeline trench at the building site.
The resulting four-bedroom home will be sold, with proceeds used to fund a pre-employment program with Build Up Tassie for young and vulnerable Tasmanians.
Archbishop Porteous offered his gratitude to all involved, reflecting on St Paul's letter to the Corinthians and Jesus' words in Matthew's Gospel on the value of work and building strong foundations.
"In all we do, may we never lose sight of the one true foundation which has been laid down for us… that is, Jesus Christ," he said.
The construction of the home will also be used as a training site for Build Up Tassie participants and St Joseph Affordable Homes apprentices.
Centacare Evolve Housing and St Joseph Affordable Homes CEO Ben Wilson said the Build Up Tassie initiative had been supported by the community and will help young, vulnerable Tasmanians looking to enter the construction industry.
"Young people just need an opportunity and a work-ready program like this brings them together to get themselves ready for permanent work," Mr Wilson said.
FULL STORY
Charity House blessed as project looks to the future (Hobart Archdiocese)