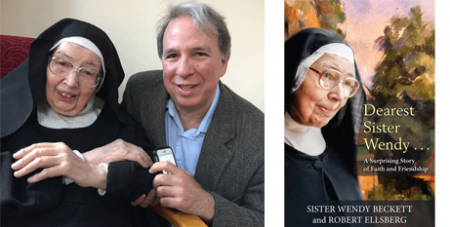 The friendship between British art historian Sr Wendy Beckett and American publisher Robert Ellsberg is documented in a new book to be launched today. Source: The Catholic Weekly
Sr Wendy was a religious hermit who unexpectedly shot to international fame through her TV documentaries on art for the BBC during the 1990s.
Ellsberg, publisher and editor-in-chief of Orbis Books and a former managing editor of The Catholic Worker, has edited the selected writings, diaries, and letters of Dorothy Day, a Servant of God whom he knew personally.
In 2016, the friendship between Sr Wendy and Ellsberg blossomed through email correspondence until Sr Wendy's death in 2018 aged 88.
Dearest Sister Wendy is the edited collection of this almost daily exchange, which cover topics both varied and profound.
Ellsberg said Sr Wendy "determined that our communication did have a real purpose".
"We began by writing about subjects of mutual interest – chiefly, the meaning of holiness and the lives of the saints. But very quickly that expanded into vaster realms.
"Sr Wendy often said that I opened her out to the world. By vocation (as a hermit) and by temperament, she had chosen a quite sequestered life, allowing her to devote herself with minimal distraction to her relationship with God."
"She had friendly relations with many people, but I don't think she had permitted herself to engage so deeply with someone out in "the world" and it seemed that this effected a gradual change not only in her outlook on various topics, but even on a more personal level.
"She found herself reflecting more critically on her inner life, sharing reflections on her early childhood and events that had shaped her, re-examining long-held judgments, and connecting her love of God with love for an actual person.
The Australian launch of Dearest Sister Wendy, including a conversation with Robert Ellsberg, will be hosted online today, 11.30am-12.15pm (AEDT) by BBI-TAITE. Register at this link. Details: 02 9847 0030.
FULLS TORY
Letters reveal another side to Sr Wendy Beckett (By Marilyn Rodrigues, The Catholic Weekly)