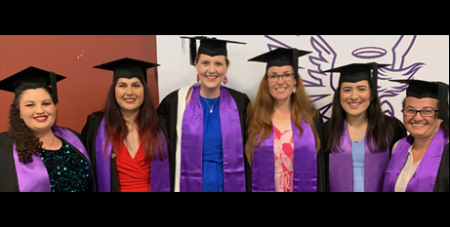 The 2021-22 Leadership for Mission program for young women has officially drawn to a close with a retreat and graduation ceremony in Sydney. Source: The Bridge
The program is a collaboration between the Australian Catholic Bishops Conference and the Australian Catholic University (ACU), with support from Catholic Mission. The 10 graduates have now completed an academic program, resulting in the awarding of a Graduate Certificate in Theological Studies.
To complement their academic studies, the women have participated in a rich array of formation offerings. This has included meeting many exceptional Catholic women leaders and participating in and preparing beautiful spiritual reflections and prayer liturgies.
Graduate Sharina Rabusic, who studied forensic and analytical sciences, is using her newfound skills in her role as the Lasallian campus minister at St Michael's College in Adelaide.
"The LFM program has helped me engage with and grow in my faith and to be willing to step out of my comfort zone," Ms Rabusic said. "It has helped me to actively listen to others and taught me the importance of ongoing communication in different communities."
Like many initiatives, this most recent iteration of LFM was affected by COVID-19. However, students, lecturers and all involved in the program embraced modern technologies, striving to connect and accompany each other in very real ways throughout the two years.
Bishop Michael Morrissey, the Bishops Commission for Evangelisation, Laity and Ministry Delegate for Women, met with the graduates via Zoom at their final retreat at St Joseph's Centre in Baulkham Hills in Sydney. He congratulated them on completing their studies and encouraged them to use their abundant gifts to further Christ's mission in all the forums they are involved in.
FULL STORY
Participants in women's leadership program graduate (By Sharon Brewer, The Bridge)