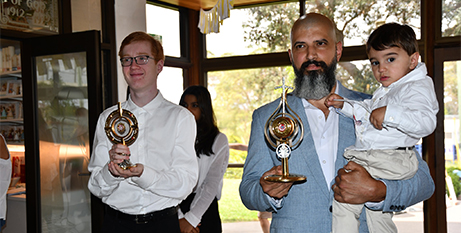 Relics of St John Paul II have been installed at St Patrick's Catholic Church in East Gosford, which is now a permanent shrine to the Polish saint. Source: Sydney Morning Herald.
The installation took place in a special installation Mass at the Broken Bay Diocese church on Saturday, the feast of St John Paul II, with more than 1000 worshippers in attendance.
The relics from the saint are a small clipping of his hair obtained at the Vatican when Pope John Paul II was alive and also a sample of his blood obtained during a hospital visit for health tests. Both relics have been placed in a red reliquary, a cabinet to hold the sacred objects, behind the altar.
The hair was being looked after by Kyiv's Archbishop Mieczyslaw Mokryzcki, formerly the Pope's personal secretary, and was escorted to Australia via a Catholic conference in Poland, coincidently one week before the Russian invasion.
In January, Polish-born Fr Greg Skulski at St Patrick's said he approached the Broken Bay Anthony Randazzo in January seeking permission to obtain the first-class relic and to establish a shrine to the Pope who was also Polish.
"St John Paul II, a saint of our times, was known by everyone. This is the first shrine dedicated to him in the whole of Australia. He is an inspiration to many generations," Fr Skulski said.
Bishop Randazzo said having two first-class relics of St John Paul II was something "all the faithful of Sydney and indeed pilgrims from right around Australia, and even beyond, can share in the years ahead".
FULL STORY
St John Paul II shrine to be installed in Gosford (By Tim Barlass, Sydney Morning Herald)
RELATED COVERAGE
St John Paul II relics (Broken Bay Diocese)
East Gosford JPII shrine set to open (The Catholic Weekly)
Saint John Paul II relics arrive on the Central Coast (NBN News)