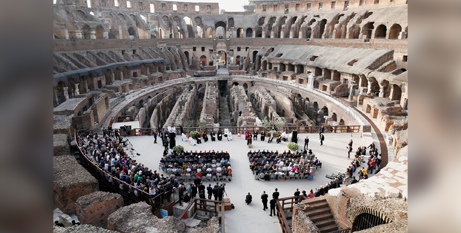 Standing in front of an ancient symbol of violent battles, Pope Francis and global religious leaders echoed "the cry for peace" of people suffering the impact of conflicts around the world. Source: CNS.
At various spots inside and around Rome's Colosseum yesterday, members of different religions prayed separately for peace before coming together with Pope Francis to issue their appeal to all their followers and, especially, to the modern-day emperors who send their gladiators to fight to the death.
Pope Francis, addressing the religious leaders, noted the anniversary of the Cuban Missile Crisis, a "grave international crisis, when military confrontation and nuclear holocaust seemed imminent."
And he quoted St. John XXIII's words from October 25, 1962: "We plead with all government leaders not to remain deaf to this cry of humanity. Let them do everything in their power to safeguard peace. They will thus spare the world the horrors of a war, the terrible consequences of which cannot be foreseen."
Saying he made that appeal his own, Pope Francis told the crowd, "We are not 'neutral, but allied for peace,' and for that reason we invoke the ius pacis (the right to peace) as the right of all to settle conflicts without violence."
The event, which included the signing of a formal "Appeal for Peace," concluded the interreligious meeting the Community of Sant'Egidio sponsors each year to continue the relationships begun by St John Paul II in 1986, when he invited religious leaders from around the world to join him in Assisi to pray for peace.
Russia's invasion of Ukraine, the continued fighting there and Russian officials' continuing veiled threats to use nuclear weapons dominated the concerns at the three-day meeting, although they did not ignore the often-forgotten wars in Ethiopia, Syria, Yemen, South Sudan, Haiti, Myanmar, Nicaragua and elsewhere.
FULL STORY
Cries for peace can't be ignored, pope says at interreligious meeting (By Cindy Wooden, CNS)
RELATED COVERAGE
Pope, religious leaders launch appeal: 'No more war and universal ceasefire' (Vatican News)