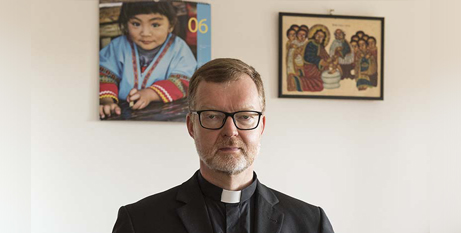 One of the Church's leading experts on safeguarding and clerical sexual abuse says the exclusion of women from seminary formation has had "extremely harmful consequences" and this "needs to change". Source: Crux.
Jesuit Father Hans Zollner told more than 200 people at a "Stolen Lives" webinar that "the role of women has been to clean up the mess that men have made". The webinar was organised by the Root & Branch lay reform movement in Britain in conjunction with Survivor Voices and Scottish Laity Network.
Fr Zollner said he regretted that workshops on safeguarding are attended mostly by women. "It seems that men are not only in the great majority responsible for the big mess and the hurt, but they also run away from facing that reality."
Fr Zollner, a member of the Pontifical Commission for the Protection of Minors, said studies have shown that at least 80 to 90 per cent of clerical sexual abuse was committed, not on children, but adolescents.
In the period between 1965 and 1982, the majority of victims were male adolescents. However, the numbers changed later when female altar servers were introduced, and as boarding schools run by priests and male religious began to admit girls.
"In the formation setting, the presence of women as counsellors, as teachers, and formators is necessary to bring about in males training for the priesthood or religious life a much more mature and realistic image and experience of this mysterious human being that is called a woman. Many who trained as seminarians years ago never got any chance to really interact with women in a meaningful way."
Fr Zollner blamed the Council of Trent for introducing the seminary structure as it is known today. He said it had "run its course" and that he was hearing from bishops and religious superiors that they were aware of this.
FULL STORY
Women must be included in formation of priests, says abuse expert (By Sarah MacDonald, Crux via CNS)