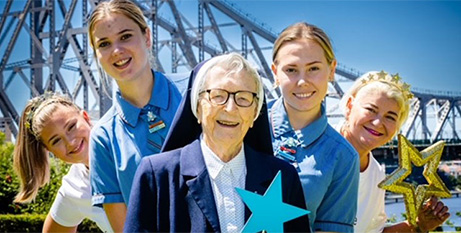 Helena's House co-founder Fiona McIlwain said she felt blessed to see her daughter Helena's dream of building a house for people with disabilities get one step closer thanks to community support for an upcoming fundraising walk. Source: The Catholic Leader.
Helena McIlwain died from a pulmonary embolism on October 13, 2019.
Ms McIlwain said that the day before she died, Helena had spoken passionately about how more was needed to be done to create housing opportunities for people with a disability to live independently.
Ms McIlwain, her husband Eric and Helena's younger sister, Sophia, hope to turn that dream into a reality.
Helena had been working for the not-for-profit BestLife Foundation, which trains children and young adults with a disability by offering a housemates program. This program is about making new friends and having fun while learning valuable skills to encourage independent living.
This house will be called "Helena's House" in her memory.
Ms McIlwain said more than $400,000 had been raised in the past 18 months for Helèna's House.
This Saturday, November 12, more than 400 people will take part in the eight-kilometre Sunset Starwalk from Helena's Brisbane school, All Hallows, to the planetarium in the city's Botanic Gardens.
Mercy Sister Angela Mary Doyle, who has been supportive to the family since Helèna passed away, will officially start the walk.
Ms McIlwain said Sr Angela Doyle was an inspirational woman for all people.
"She is compassionate, intelligent and a fountain of wisdom, attributes that Helena's aspired to."
Details: Sunset Starwalk 2022 or search for Helèna's House on Facebook.
FULL STORY
Hundreds walking for Helèna's dream to bring housing opportunities for young adults with disabilities (By Joe Higgins, The Catholic Leader)