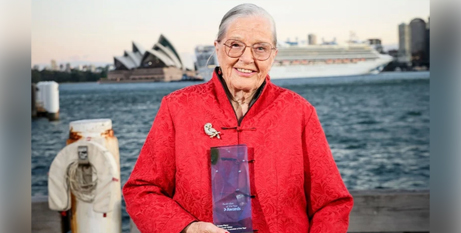 For former nurse Teresa Plane, being named the New South Wales Senior Australian of the Year for 2023 is a God-given opportunity to promote her passion for palliative care. Source: The Catholic Weekly.
The 90-year-old Sydney Catholic has been recognised as a pioneer of modern palliative care in Australia, and hopes to inspire many more nurses, doctors and volunteers to enter the "incredibly rewarding" field.
At age 29 and in the "unique position" of owning a hospital in the newly-developed suburb of Seven Hills in Sydney's west, Ms Plane travelled to England and Canada to learn from the pathfinders in modern palliative care methods.
"I became an apostle and a real zealot for this concept of care which was about seeing people with life-limiting illness and their families and meeting their needs in a multi-disciplinary way," Ms Plane said.
On returning she opened a hospice and palliative care unit at Mt Carmel Hospital in Western Sydney in 1978. She later established Macquarie Hospice, a home care and day care centre, and has promoted quality palliative care around the country and overseas.
She is full of praise for the dedicated professionals, including many religious sisters, who helped to build palliative care in this country. While she "would not dictate to anybody else", she would not opt for voluntary assisting dying.
She has sat with hundreds of people who are dying and has never seen what she calls a "horror death".
"Something happens that I can't explain or understand, something spiritual. I've always sat in absolute wonder of that moment, and I want to experience that," she said.
"I also want to encourage other people if they can just overcome their fear of death to be there at that moment with dying people."
FULL STORY
Devoted to the dying (By Marilyn Rodrigues, The Catholic Weekly)