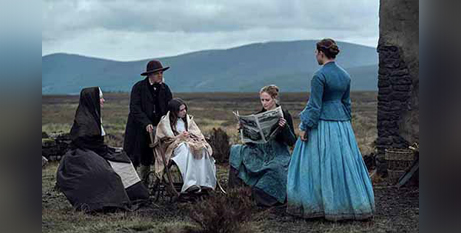 In The Wonder, an English nurse is sent to rural Ireland to supervise an 11-year-old girl who has survived four months without eating through continual prayer. Source: Australian Catholics.
Directed by Chilean director Sebastien Elio (Gloria, Fantastic Woman, Disobedience), the story is set in a remote Irish Midlands village in 1862, following the Potato Famine.
The screenplay takes us into the world of Irish Catholicism, with its piety and prayer, a domineering parish priest and a grim tradition of asceticism.
An 11-year-old girl, Anna O'Donnell (Kila Lord Cassidy, here acting with her mother portraying her film mother, Elaine Cassidy) has become something of a local wonder. She has not eaten for four months and is still surviving. People from roundabout come to visit her, amazed at her faith.
There is a local board with a variety of interests, political, medical, ecclesiastical, hoping that Anna is a wonder but deciding to bring in an English nurse and an Irish nun to take eight-hour shifts, closely watching and, taking notes, ensuring that all is authentic.
For the devout Irish, this is not impossible, God working in mysterious ways. For the sceptics, there is something wrong, there is some way in which the young girl is actually getting food to survive.
Nurse Lib Wright (Florence Pugh) watches over Anna, records her progress, but becomes increasingly wary.
The Wonder is well-acted, sombre in look and tone, taking us back to a severe Ireland.
Reviewed by Fr Peter Malone MSC, Jesuit Media
The Wonder: Starring Florence Pugh, Kila Lord Cassidy, Tom Burke, Elaine Cassidy, Josie Walker, Caolan Byrne, Toby Jones, Dermot Crowley, Ciaran Hinds, Brian F O'Byrne. Directed by Sebastian Lelio. 108 minutes. Rated M (Mature themes, a sex scene and infrequent coarse language.) In cinemas now and streaming on Netflix.
FULL REVIEW
The Wonder (Australian Catholics)