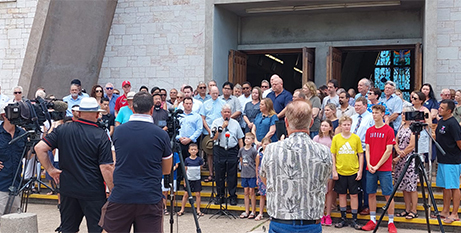 A former Northern Territory Labor attorney-general says the NT Government should delay its contentious anti-discrimination legislation until a federal government review is complete. Source: NT News.
Chris Burns, the long-time member for the Darwin seat of Johnston and former attorney-general, joined dozens of protesters on the steps of St Mary's Cathedral, Darwin, on Saturday morning to protest the Anti-Discrimination Amendment Bill.
Former Member for Nightcliff and speaker of the Legislative Assembly Jane Aagaard also stood with protesters in sweltering heat while Solomon MHR Luke Gosling watched on as Darwin Bishop Charles Gauci warned that the Bill would remove religious freedoms and hit human rights in the Northern Territory.
Bishop Gauci criticised the government for failing to consult with stakeholders and said the Bill threatened the existence of faith-based schools.
He said the Church did not discriminate based on sexuality and would employ gay teachers.
"If a person is gay or whatever and are respectful of our ethos of course, they are human beings. We love them. We respect them – students, teachers, whatever. We're not about discriminating against people in that sense," Bishop Gauci said.
"When they come to our school the teaching they uphold in the public stance needs to be in-line and respectful, not criticising or undermining what we teach."
Mr Burns said some of the proposed bill "looks like a grievance wandering about looking for offence".
He called on NT Attorney-General Chansey Paech to wait until an Australian Law Reform Commission report into what changes should be made to anti-discrimination laws was complete.
Territory Labor is expected to use its numbers in the single-chamber Legislative Assembly to vote the changes through this week's Parliamentary sittings.
FULL STORY
Chris Burns, Luke Gosling, Jane Aagaard, Charles Gauci attend protest against Anti-Discrimination Bill (By Camden Smith, NT News)
RELATED COVERAGE
Anti Discrimination Amendment Bill discriminates thousands of Territorian   (Darwin Diocese)
Religious leaders in the NT urge government to revise proposed changes to anti-discrimination laws (ABC News)
Matt Cunningham opinion: The Territory Government risks discriminating against people because of their religious beliefs (NT News)