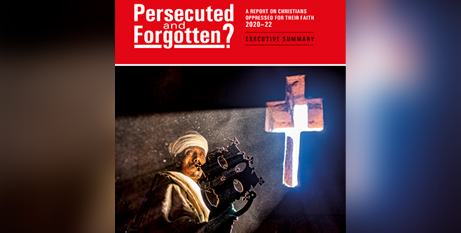 Jihadists and nationalists are driving increased persecution of Christians around the world, according to a new Aid to the Church in Need report.
ACN's "Persecuted and Forgotten? A Report on Christians oppressed for their Faith 2020-22" details incidents of persecution with first-hand testimony, case studies and country analysis on the extent to which Christians are targeted around the world.
The report found that in 75 per cent of the 24 countries surveyed, oppression or persecution of Christians had increased.
Africa saw a sharp rise in terrorist violence from non-state militants – with more than 7600 Nigerian Christians reportedly murdered between January 2021 and June 2022.
In May this year, a video was released showing 20 Nigerian Christians being executed by Islamist terror group Boko Haram/ISWAP.
Speaking ahead of the report's launch last week, Nigerian Bishop Jude Arogundade said "no-one seems to pay attention to the genocide" taking place in swathes of Nigeria's Middle Belt. "The world is silent as attacks on churches, their personnel and institutions have become routine. How many corpses are required to get the world's attention?"
In Asia, state-authoritarianism led to worsening oppression, which the report found was at its worst in North Korea, where religious belief and practice are routinely and systematically repressed.
Religious nationalism has triggered increasing violence against Christians in the region, with Hindutva and Sinhalese Buddhist nationalist groups active in India and Sri Lanka respectively. Authorities have arrested believers and stopped Church services.
The report found that in the Middle East a migration crisis threatened the survival of some of the world's oldest Christian communities in Syria and Iraq.
FULL STORY
Report shows persecution of Christians is getting worse (ACN)
RELATED COVERAGE
West must act to stop terrorism, Nigerian bishop says (UCA News)