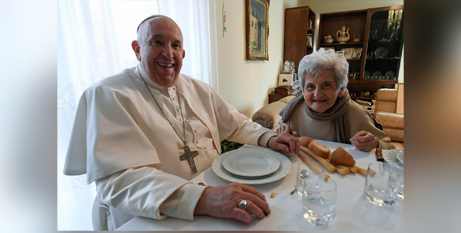 Pope Francis made a rare personal getaway on Saturday, returning to his father's birthplace in northern Italy to celebrate the 90th birthday of a second cousin who long ago knew him as simply "Giorgio". Source: Crux.
Francis's two-day visit to his ancestral homeland underscored some of the keystones of his papacy, including the importance of honouring the elderly and the human toll of migration. The private visit on Saturday was followed by a public Mass on Sunday.
The Pope's father, Mario Jose Francisco Bergoglio, and his paternal grandparents arrived in Buenos Aires on January 25, 1929, to reach other relatives who had joined the tail end of a mass decades-long emigration from Italy.
The future pope, Jorge Mario Bergoglio, was born nearly eight years later in Buenos Aires, after the elder Bergoglio met and married Regina Maria Sivori, whose family was also of Italian immigrant stock. Francis grew up speaking the Piedmont dialect of his paternal grandmother Rosa, who cared for him most days.
Francis began his visit to Portacomaro on Saturday with lunch at the home of his cousin Carla Rabezzana. He later visited another cousin nearby, stopping at a nursing home along the way to greet and bless the guests.
"We have known each other forever,'' Ms Rabezzana told the Corriere della Sera newspaper in the runup to the visit. "When I lived in Turin, Giorgio — I always called him that — came to stay because I had an extra room. That is how we maintained our relationship.
"We always would joke. When he told me he would come to celebrate my 90th birthday, I said it made my heart race. And in response I was told: 'Try not to die.' We burst out laughing.''
FULL STORY
Pope visits immigrant father's hometown for birthday party (By Colleen Barry and Gianfranco Stara, AP via Crux)
The Pope arrives in Piedmont where his roots lie (Vatican News)