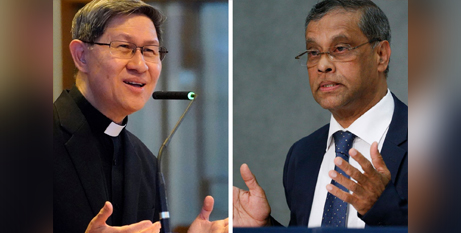 Pope Francis has suspended the secretary-general and other top officers of Caritas Internationalis, appointing a temporary administrator to oversee management policies and to prepare for the election of new officers in May. Source: CNS.
Cardinal Luis Antonio Tagle, whose second term as Caritas president was to end in May, also lost his position, although will assist the temporary administrator in preparing for the future by taking "special care of relations with the local churches and the member organisations", said the papal decree published yesterday.
Caritas Internationalis is the umbrella organisation for 162 official Catholic charities working in more than 200 countries, including Caritas Australia.
Pope Francis appointed Pier Francesco Pinelli, a business management consultant, to oversee the Vatican-based offices of the general secretariat.
In a statement published yesterday, the Dicastery for Promoting Integral Human Development, which has some oversight responsibility for Caritas Internationalis, said the suspension of the officers "has no impact on the functioning of member organisations and the services of charity and solidarity they provide around the world".
The statement said the dicastery "commissioned a review of the workplace environment" of Caritas Internationalis earlier this year and while "no evidence emerged of financial mismanagement or sexual impropriety", the panel found "real deficiencies in management and procedures" that affected staff morale.
The announcement of the Pope's provisions came while some 100 Caritas representatives from around the world were having a two-day meeting in Rome "to reflect on how to strengthen local leadership within the confederation and enhance fraternal cooperation among member organisations".
Aloysius John, the secretary-general since 2019, was not present at the meeting, Vatican News said.
In a statement provided to CathNews, Caritas Australia said: "Caritas Australia is an independently governed member of the Caritas Internationalis confederation, with an independent Board of Directors and governance structure. Caritas Australia's development and humanitarian work will not be impacted by these changes. The vital work that we do with vulnerable communities will continue without change or disruption."
"The wellbeing of the staff of any organisation, including Caritas Internationalis is of the highest priority. Our Mission and work remain unchanged – to serve communities who are marginalised and vulnerable, partnering with them to end poverty, promote justice and uphold dignity," said Kirsty Robertson, Caritas Australia's CEO.
FULL STORY
Pope suspends Caritas Internationalis officers, appoints administrator (By Cindy Wooden, CNS)
RELATED COVERAGE
Pope appoints Temporary Administrator to relaunch Caritas Internationalis (Vatican News)
Analysis: What is behind the changes at Caritas Internationalis? (CNA)