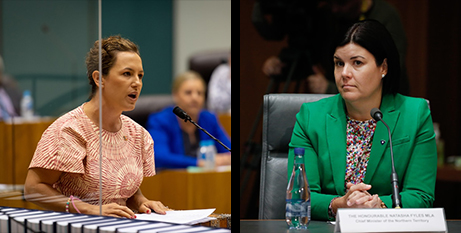 After hours of fierce debate and despite a strong backlash from religious groups, the Northern Territory Parliament has passed a suite of amendments to anti-discrimination laws. Source: ABC News.
It marks the first time the legislation has been substantially overhauled since the original act was passed 30 years ago.
The changes include the contentious removal of a clause that previously allowed religious groups to discriminate against a person on the basis of their religious beliefs or sexuality, and an expansion of personal attributes protected under the legislation.
"We are putting equality into our workplaces and we are ensuring that those vulnerable Territorians, when they are vilified, that they have protection," Chief Minister Natasha Fyles said yesterday.
The Country Liberal Party (CLP) voted against the bill, which Opposition Leader Lia Finocchiaro said "erodes freedom of speech and erodes freedom of religion".
During the heated debate leading up to the vote on Tuesday, CLP members questioned whether the new laws would erode the territory's "larrikin culture".
Some of the reforms have received backlash from the territory's religious communities, including the removal of an exemption for faith-based schools still in force across other Australian jurisdictions.
Under Section 37A of the previous act, religious schools were permitted to exclude job applicants on the basis of their religious belief, activity or sexuality if they did so in good faith to avoid offending the sensitivities of their followers.
A protest against the changes on the weekend was attended by representatives of the NT Christian schools network and the territory's Catholic, Islamic, Sikh, Hindu and Buddhist communities.
The same religious groups have also criticised the Government for removing the exemption after bill's public consultation period had ended.
The CLP has vowed to overturn the legislation if elected in 2024.
FULL STORY
Northern Territory parliament passes anti-discrimination law reform amid fierce backlash (By Alicia Perera and Mitchell Abram, ABC News)
RELATED COVERAGE
Advocates are divided by landmark changes to the NT's Anti-Discrimination Act (NT News)