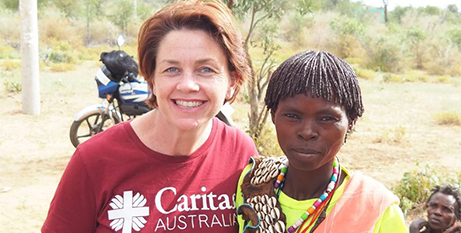 The appointment of a temporary administrator of Caritas Internationalis will not affect the mission and work of Caritas Australia, says the humanitarian organisation's chief Kirsty Robertson. Source: The Southern Cross.
Pope Francis issued a decree on Tuesday naming Dr Pier Francesco Pinelli as temporary administrator. This followed a review earlier in the year of the workplace environment of the Caritas Internationalis General Secretariat.
Caritas Internationalis has been placed into temporary administration with all current leadership appointments terminated due to staff allegations of unreasonable workplace culture. No allegations of sexual misconduct or financial mismanagement were made.
In a statement published yesterday, the Dicastery for Promoting Integral Human Development, which has some oversight responsibility for Caritas Internationalis, said the suspension of the officers "has no impact on the functioning of member organisations and the services of charity and solidarity they provide around the world".
Ms Robertson said the measure has no effect on the development and humanitarian work of Caritas Australia.
"The wellbeing of the staff of any organisation, including Caritas Internationalis is of the highest priority," she said.
"Our mission and work remain unchanged – to serve communities who are marginalised and vulnerable, partnering with them to end poverty, promote justice and uphold dignity."
Caritas Australia is an independently governed member of the Caritas Internationalis confederation, with an independent board of directors and governance structure.
FULL STORY
Caritas Australia responds to Vatican move (By Jenny Brinkworth, The Southern Cross)
RELATED COVERAGE
Caritas Australia not impacted by Internationalis leadership spill (The Catholic Weekly)
Pope appoints temporary administrator to Caritas Internationalis (CathNews)
Archbishop Mark Coleridge leads Blessing of Caritas Australia's new office on his first day as Board Director (Caritas Australia)