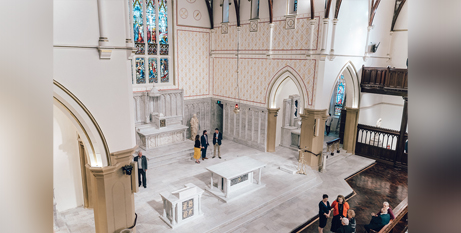 Canberra-Goulburn Archdiocese vicar general Fr Tony Percy admitted to high emotion when he saw the fully restored Sts Peter and Paul's Old Cathedral in Goulburn for the first time on Friday. Source: Goulburn Post.
"When I arrived here to see the Old Cathedral, soon to be Australia's sixth minor basilica – please God ­ I started to cry," Fr Percy told a dinner gathering on Friday night.
"I began to think of all the people who have been part of this journey of restoration, and I was simply overwhelmed with joy and thanksgiving. We are part of something bigger than ourselves."
A year-long, $10 million project to restore the structure, built from 1872 to 1890, was unveiled to more than 100 invited guests on Friday night. Archbishop Christopher Prowse, archdiocesan representatives, clergy, parishioners and community members were among them.
It is the most significant work in decades on what is the only greenstone cathedral in the world.
Restoration committee chair, Ursula Stephens described the project as "transformational."
"I know when people walk through the door, they will gasp and hardly remember what it looked like," Dr Stephens said.
"The important point is we did this in one year, amid COVID, floods, storms and other challenges. These people (workers) have been amazing and have pulled out all stops to complete the project on time. It's a credit to them."
The restored cathedral will be opened at a special Mass on November 30 at 11am. Archbishop Prowse will concelebrate the Mass with bishops and clergy. Some 500 people are expected to attend, with a celebration afterwards on the presbytery grounds.
FULL STORY
Unveiling old cathedral's trump of creativity and craftsmanship (By Louise Thrower, Goulburn Post)
RELATED COVERAGE
'We've done it!' The Restoration of the World's Only Greenstone Church (Catholic Voice)
LIVE COVERAGE