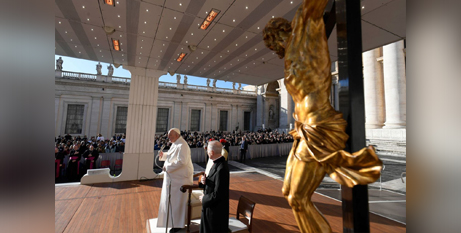 Pope Francis used the example of several Catholic saints to explain the concept of spiritual consolation during his weekly audience yesterday. Source: CNA.
"What is spiritual consolation?" he said." It is a profound experience of interior joy, consisting in seeing God's presence in everything. It strengthens faith and hope, and even the ability of doing good."
The Pope continued his teachings on the theme of discernment at his public audience in St Peter's Square, where he contrasted last week's reflection on spiritual desolation with consolation, as experienced by several of the Church's saints.
"The person who experiences consolation never gives up in the face of difficulties because he or she always experiences a peace that is stronger than any trial," Francis said. Consolation "is, therefore, a tremendous gift for the spiritual life as well as life in general."
The Pope began his explanation by drawing from the Spiritual Exercises of St Ignatius of Loyola, who wrote about rules for the discernment of spirits.
Francis said "consolation is an interior movement that touches our depths. It is not flashy but soft, delicate, like a drop of water on a sponge".
He went on to describe consolation as not "a passing euphoria," nor something which tries to force our will or inhibit our freedom. "Even the suffering caused, for example, by our own sins can become a reason for consolation," he added.
St Augustine was consoled when he spoke with his mother, St. Monica, about the beauty of eternal life, the Pope said. And St Francis of Assisi experienced perfect joy despite the difficult situations he had to bear.
"Let's think of the many saints who were able to do great things not because they thought they were magnificent or capable, but because they had been conquered by the peaceful sweetness of God's love," Pope Francis said.
FULL STORY
Pope Francis: What is spiritual consolation? The saints explain (By Hannah Brockhaus, CNA)