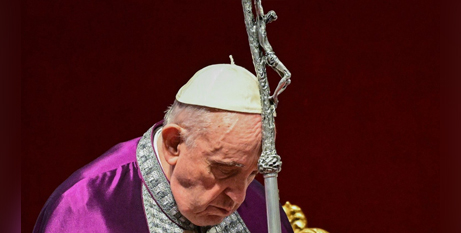 Nine months after the eruption of war in Ukraine, Pope Francis sent a letter on Friday to the Ukrainian people praying for peace and saying he shares in their suffering. Source: Crux.
In the letter, the Pope told Ukrainians that "I would like to unite my tears with yours and tell you that there is not a day in which I am not close to you and I do not carry you in my heart and in my prayer".
"Your pain is my pain," he said, saying, "On the cross of Jesus today I see you, you who suffer the terror unleashed by this aggression. Yes, the cross that tortured the Lord lives on in the tortures found on the corpses, in the mass graves discovered in various cities."
In these and the many other "bloody images" that have made the rounds since the war began, he said, the question arises of "why? How can men treat other men like this?"
Pope Francis's letter was signed November 24, exactly nine months after the outbreak of the war in Ukraine following Russia's February 24 invasion.
In his letter, Pope Francis lamented that for the past nine months, "the absurd madness of war has been unleashed" in Ukraine.
"In your sky the sinister roar of explosions and the sound of sirens reverberate without stopping. Your cities are pounded by bombs while showers of missiles cause death, destruction, and pain, hunger, thirst, and cold," he said, noting that many have been forced to flee, leaving loved ones behind.
Pope Francis closed by entrusting Ukraine to the Virgin Mary, saying, "let us never tire of asking for the longed-for gift of peace, in the certainty that 'nothing is impossible for God.'"
FULL STORY
At 9-month mark of war, Pope tells Ukrainians 'your pain is my pain' (Elise Ann Allen, Crux)