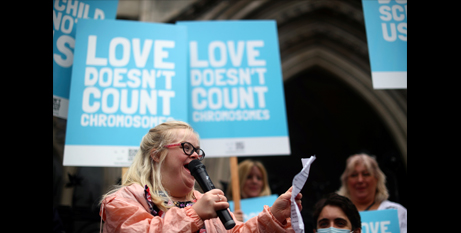 A British woman with Down syndrome is to take her fight to halt abortions up to birth for babies with her genetic condition to the Supreme Court after the Court of Appeal rejected her case. Source: Catholic Herald.
Heidi Crowter, 27, will apply for permission for her case to be heard at the Supreme Court following her defeat in London.
She argued that a clause in the 1967 Abortion Act discriminates against Down's syndrome children and babies with disabilities by allowing them to killed up to birth simply because they are different from other children.
Abortion for children without Down syndrome or other disabilities is forbidden after 24 weeks of gestation and Ms Crowter had asked for the law to apply to all unborn babies without discrimination.
Ms Crowter has claimed that the law as it is stigmatises people with Down syndrome and disabilities by sending out the message that their lives are less valuable than those of other people.
"I feel like crying," said Ms Crowter outside of court.
"We face discrimination every day in schools, in the workplace and thanks to this verdict the judges have upheld discrimination in the womb to which is downright discrimination," she told journalists.
"When Wilberforce wanted to abolish the slave trade he didn't give up when things didn't go his way.
"I won't give up either because the law should be changed to get rid of a negative focus on Down's syndrome – even the words used in it are offensive."
Ms Crowter's solicitor, Paul Conrathe, said that the judgment was "disappointing and perplexing".
"Rather than affirming the equal value of those with disabilities, it further adds to the stigmatisation they suffer," he said.
FULL STORY
Down's woman vows to fight abortion law discrimination in Supreme Court (By Simon Caldwell, Catholic Herald)