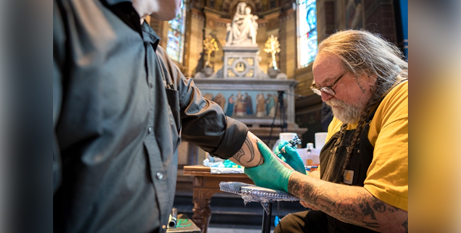 For one day only, St Nicholas Basilica in Amsterdam turned into the workplace of tattoo artist Henk Schiffmacher. The well-known Dutch artist tattooed his recently auctioned image of St Nicholas on the forearm of the lucky winner. Source: Crux.
As part of the Year of St Nicholas, the basilica auctioned off a design Schiffmacher had made especially for the occasion. The design brought in around $A700, while having it personally tattooed netted another $1300. All of the proceeds of the auction will be used to benefit victims of sexual violence.
A beaming Rudolf Westerlink proudly showed off the new inkwork that Schiffmacher tattooed on his forearm.
"I didn't have very much room left," he said, laughing. "But in this way, it's clearly visible."
The image seems to be right up his alley.
"I have been an acolyte at St Nicholas Basilica since 2014. St Nicholas is also the patron saint of the city of Amsterdam, and so I feel very connected to him," said Mr Westerlink, who is also an Amsterdam native.
"Furthermore, it appeals to me that it is a kind of pilgrim tattoo. To top all that, I work a lot with the homeless. All of that comes together very nicely in this tattoo," he added.
On November 12, Schiffmacher had installed himself with his toolkit – and assisted by his wife – next to the altar of St Nicholas. The altar has only been in the basilica for a year.
After the tattoo session, Deacon Rob Polet blessed and anointed the tattoo on the acolyte's arm. The ointment contained fluid from the bones of St Nicholas.
FULL STORY
Dutch tattoo artist uses Amsterdam basilica for latest work (By Selinde van Dijk-Kroesbergen, Katholiek Nieuwsblad via Crux)