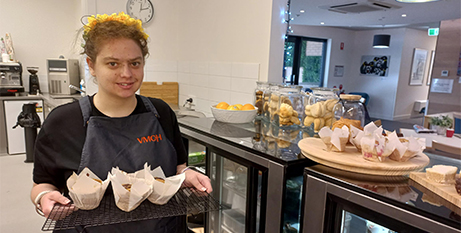 A new café in Torquay, Victoria, is giving local residents with disability job skills opportunities – with an intergenerational twist. Source: VMCH.
Tomorrow is International Day of People with Disability and its aim is to increase public awareness, understanding and acceptance of people with disability.
Run by Catholic, for-purpose organisation VMCH, Star Café is a social enterprise aimed to help people build skills and experience in a real working environment on their path to finding paid employment.
More than 10 trainees will be supported by hospitality and disability support workers over the next 12 months, serving Torquay locals and visitors with delicious food and great coffee.
Recent figures show working-age people with disability are twice as likely as those without disability to be unemployed. Insufficient work experience is one of the most common reasons people with disability have difficulty finding work (Australian Institute of Health and Welfare, 2020).
Star Café Coordinator Cathy Rundle, a former disability support worker, educator and restaurant owner, said what also sets Star Café apart is its intergenerational benefits, with the café located at VMCH's Star of the Sea Aged Care Residence.
She said there is a great need for this kind of learning hub on the surf coast.
"This café will provide a much-needed supportive and non-judgmental environment where clients can feel comfortable and gain skills and knowledge that can lead to meaningful employment opportunities."
Star Café follows the success of VMCH's first social enterprise café, Where Is My Coffee? in Wangaratta, which, since opening last year, has given 22 people work experience, with two going on to find paid work and six more transitioning to paid roles.
Carlyn, one of Star Café's first two trainees, says interacting with customers, particularly older residents, has already helped to build her confidence. The 22-year-old is hopeful perfecting skills such as making muffins, sandwiches, cleaning and washing up will help her secure paid employment.
FULL STORY
Unique, intergenerational social enterprise café opens (VMCH)