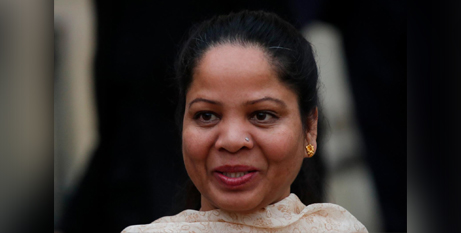 Asia Bibi, a Pakistani Catholic woman who escaped death for alleged blasphemy and now lives in Canada, has appealed for the protection of victims of blasphemy laws in her country. Source: UCA News.
In her first on-camera interview since she was acquitted by the Supreme Court of Pakistan in 2018 before leaving the country, Ms Bibi urged government agencies to "thoroughly" investigate blasphemy-related offences.
"Protect the innocent instead of beating them in police stations. The innocent must be freed. Long sentences for something without proof are a great injustice in our country," she said in her December 1 online interview.
"The clerics don't understand Bible and Quran despite studying them. For God's sake, have mercy in your hearts. Pakistan is not for Muslims alone. I feel angry when good Muslims are targeted for sympathizing with poor religious minorities," Ms Bibi added.
She also referred to some high-profile cases of blasphemy killings, including the assassination of Punjab governor Salman Taseer in 2011 for calling the blasphemy law a "black law".
The incumbent Minority Minister Shahbaz Bhatti was killed in 2011 for advocating reform of the country's blasphemy law.
Ms Bibi said that since she has no formal education, she is doing a menial job for survival. She also lamented that she faces many problems including the language barrier in her adoptive country.
The Catholic woman who made international headlines after she was accused of blasphemy after an argument with a group of women in June 2009, said her life continues to be "a painful story… a test from God".
FULL STORY
Asia Bibi seeks safety for Pakistan's blasphemy victims (UCA News)