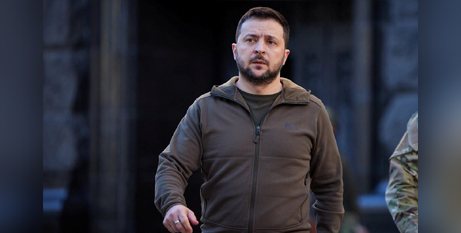 Ukrainian authorities have announced a ban on religious organisations "affiliated with centres of influence" in Russia and said an examination would be made of potential ties between Ukrainian and Russian Orthodox churches. Source: Crux.
This decision was described by Ukrainian President Volodymyr Zelenskyy on Friday as necessary in order to prevent Moscow from being able to "weaken Ukraine from within".
Orthodox Christians make up the bulk of Ukraine's population of 43 million, and for years were subject to the authority of the Russian Orthodox Patriarchate.
However, in 2019, the spiritual leader of Orthodox Christians worldwide, Patriarch Bartholomew of Constantinople, gave permission to Ukraine to form a church independent of Moscow, leading to a split in Ukraine's Orthodox community between those still loyal to Moscow and those who joined the newly independent Ukrainian Orthodox Church.
Many parishes and priests, mostly in eastern Ukraine, remained under the umbrella of the Ukrainian Orthodox Church of the Moscow Patriarchate, but in May the Moscow-subordinate branch of Orthodoxy formally broke ties with the Russian Orthodox Church over the invasion of Ukraine.
In his nightly televised address to the nation, Mr Zelenskyy told citizens, "We have to create conditions where no actors dependent on the aggressor state (Russia) will have an opportunity to manipulate Ukrainians and weaken Ukraine from within."
Mr Zelenskyy's announcement was met with fierce criticism from Russian officials, with former Russian president Dmitry Medvedev describing authorities in Kyiv as "satanists" and calling them "enemies of Christ and the Orthodox faith".
FULL STORY
Zelenskyy unveils crackdown on churches in Ukraine loyal to Moscow (By Elise Ann Allen, Crux)