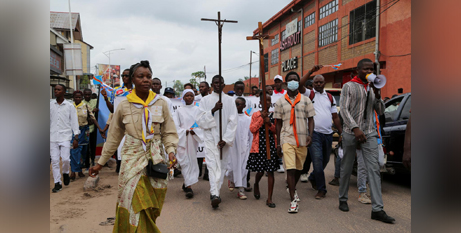 Catholics and other Christians in the Democratic Republic of Congo took to the streets on Sunday to protest increasing violence, often caused when neighbouring countries seek the nation's valuable minerals. Source: CNS.
The protest was called by the Congolese bishops conference and, in some areas, only the 6.30am Mass was offered so people could participate in the nationwide demonstrations.
Cardinal Fridolin Ambongo Besungu, who was in Rome for a meeting of cardinals, voiced his support for the demonstrations.
"The purpose (of the march) is to express our anger with this recurring crisis that has lasted in the Congo for nearly three decades, and we do not see any solution in sight," he said via a video.
"Every Congolese citizen who loves his country and is touched by the suffering of his people must rise up to oppose the project of Balkanisation of the DRC," Cardinal Ambongo Besungu said.
He specified that the march had no political overtones but was "to show the whole world that we are one people united for the national cause, united for the unity and sovereignty of our country but also for the dignity of our people."
For nearly three decades, the country been shackled by violence, and the Church believes that the violence is imposed from outside, with the complicity of the international community.
Pope Francis is scheduled to visit the Congo from January 31 to February 3, after postponing his July trip because of limited mobility.
FULL STORY
Congolese Catholics take to the streets to protest increasing violence (By Ngala Killian Chimtom, CNS)