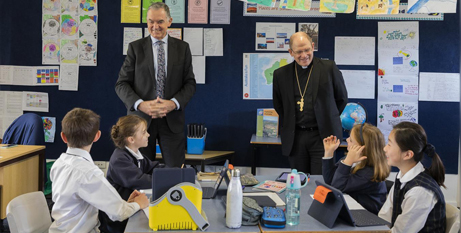 Catholic Schools Broken Bay has revealed a new educational pathway for 2023 that will continue to transform Catholic education in the diocese.
This follows a strategic review of the way CSBB delivers Catholic education on the Northern Beaches.
Families, schools, students and the wider community provided extensive feedback for the review which analysed current and emerging community needs, assessed how well these are currently met by systemic Catholic schools and identified future plans and opportunities for growth.
As a result, a series of recommendations were put to Broken Bay Bishop Anthony Randazzo, which he has fully endorsed.
At an end-of-year leadership event for CSBB, Bishop Randazzo announced plans to strengthen and shape the future of Catholic Schools on the Northern Beaches.
This includes progressing a detailed education and business plan for the Northern Beaches, enhancing opportunities for collaboration across schools while providing a clear pathway from preschool to Year 12, with a K-12 co-educational precinct in Manly.
This precinct will include a junior campus located at the current St Mary's Catholic Primary School Manly site and a secondary co-educational campus at the current St Paul's Catholic College Manly site, enrolling for 2025, beginning with years 7 and 11. St Paul's is currently a school for boys.
Planning is also in progress for a year 5 and 6 learning hub for Manly, giving students in the area greater access to specialist teachers and resources in preparation for high school.
In 2020 Bishop Randazzo set a new direction for Catholic Schools Broken Bay (CSBB) and committed all to a journey of transformation and continuous improvement under a reform plan known as Towards 2025.
"We have made extraordinary progress in the delivery of authentic professional Catholic education and continue to reimagine the way we serve the needs of the community today and into the future", he said.
Director of schools Danny Casey said, "The community has spoken, and we have listened. Insights and feedback from wide community consultation over the past eight months has informed our recommendations and I am delighted that these have been strongly endorsed by Bishop Anthony".
FULL STORY
Broken Bay continues to transform Catholic Education (Catholic Schools Broken Bay)