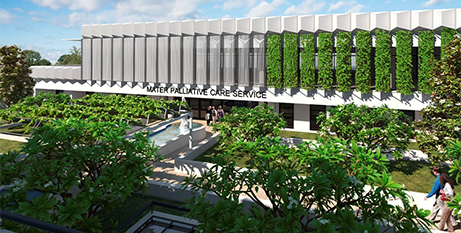 The transformation of New South Wales palliative care is underway, thanks to a major funding injection from the Perrottet Government, with Mater Hospital the latest facility to announce a multi-million-dollar palliative care unit. Source: The Catholic Weekly.
The $35.3 million development at North Sydney will create a dedicated 12-bed unit, support services, consulting rooms, and a research and teaching centre.
"For the first time our hospital will be able to provide birth to end-stage patient care, with terminally ill patients no longer needing to be referred elsewhere for their care," Mater chief executive Annette Czerkesow said.
The Mater unit was part-financed by the Friends of the Mater Foundation, who committed $18.5 million to the project.
"We believe that a world-class palliative care facility is entirely consistent with the mission, vision and values of the hospital and its delivery of distinctive and compassionate care for all patients" said Dr Keith Hartman, chair of the Friends of The Mater.
The Mater development will begin its two-year construction in December.
Last month the NSW Government announced a palliative care unit of 12 beds for Wyong Hospital as part of the NSW Government's $93 million Enhancing End of Life Care program.
FULL STORY
Huge boost for Palliative Care (By Adam Wesselinoff, The Catholic Weekly)