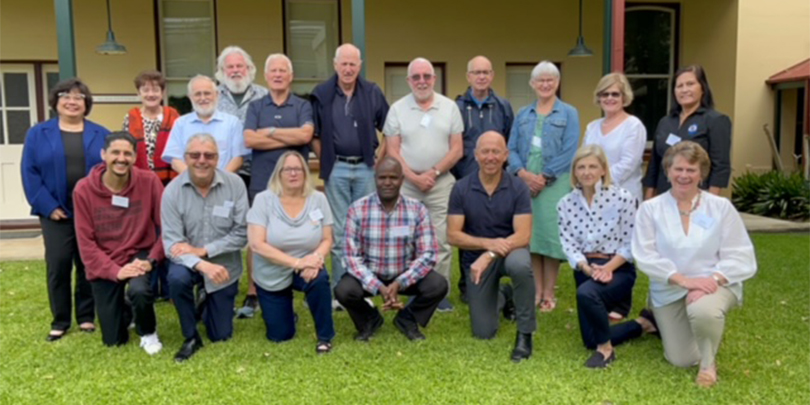 Dozens of people who minister to seafarers on behalf of the Catholic and Anglican churches gathered in Sydney recently for the Oceania regional conference of Stella Maris and Mission to Seafarers. Source: ACBC Media Blog.
More than 60 people were at Mary MacKillop Place for the event, which allowed managers, chaplains and ship visitors from Australia and New Zealand to meet in person for the first time since the pandemic began.
Two of the conference's special guests were Fr Bruno Ciceri CM from the Vatican, the outgoing director of the international Stella Maris network, and the Revd Canon Andrew Wright, the London-based secretary general of the Mission to Seafarers.
Bishop Tim Norton SVD, who this year took on the role of Bishop Promoter for Stella Maris in Australia, said the conference was a chance to share stories and strategies, but also to pray as brothers and sisters working together in ministry.
"The Catholic ministry Stella Maris and the Anglican Mission to Seafarers have always been highly collaborative initiatives from our two Christian communities," Bishop Norton said.
"It made sense for us to gather as partners in caring for the practical and pastoral needs of all seafarers, regardless of nationality, belief, or race."
One of the key challenges facing those ministering to seafarers is funding. One of the conference sessions examined the New Zealand model, which sees the national government support ministry to seafarers. There is a hope that a similar model might be adopted in Australia.
The Stella Maris national committee also met on the opening day of the regional conference.
In anticipation of the upcoming event and in planning for the future, the committee discussed sustainable funding, distribution of funds from the Sea Sunday Appeal and updates from local ministries.
FULL STORY
Ministers to seafarers celebrate their pastoral efforts (ACBC Media Blog)