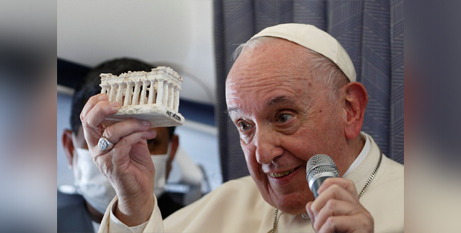 Expressing his desire to bear witness to "the truth", Pope Francis is returning three marble fragments originally from the Parthenon in Athens, Greece, according to the Vatican. Source: CNS.
The Pope will donate the pieces to Orthodox Archbishop Ieronymos II of Athens and All Greece. The Archbishop has a degree in archaeology and served as academic assistant at the Athens Archaeological Society, according to the Church of Greece website.
"As a concrete sign of the sincere desire to continue on the ecumenical journey of bearing witness to the truth," Pope Francis has decided to donate the pieces to the Greek Orthodox primate, the Vatican said in a statement on Friday.
"The three fragments from the Parthenon have, for centuries, been carefully kept in the pontifical collections and in the Vatican Museums and exhibited to millions of visitors from all over the world," the statement said.
The fragments – depicting the head of a horse, the head of a bearded man and the head of a boy – all "came into the Vatican in the 19th century," according to the Vatican Museums' website. The museums' catalogue card for the horse head said it has been in the Vatican collections since 1823; the cards for the other two pieces did not have an acquisition date.
They had been part of the decorative sculptures of the famous Greek temple built on the Acropolis by Pericles in the 5th century BC, it said.
The announcement of the donation comes the same month in which news outlets reported that senior officials from Greece, including its prime minister, Kyriakos Mitsotakis, have been in secret "preliminary" talks with the British Museum about its huge collection of marble sculptures from the Parthenon.
FULL STORY
Pope returns Parthenon marbles in Vatican collection to Greece (By Carol Glatz, CNS)