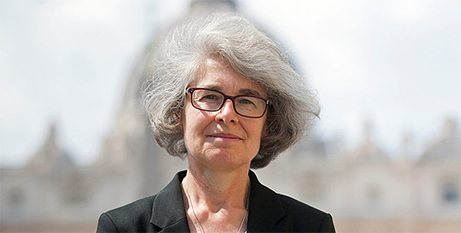 Sr Nathalie Becquart XMCJ, one of the most senior women working in the Vatican, is coming to Australia for a whirlwind tour in February and will speak at public forums and lectures in Sydney, Melbourne and Adelaide. Source: Catholic Outlook.
A member of the French Congregation of Xavière Sisters, Sr Natalie was appointed by Pope Francis in May 2019 as consultor to the Synod of Bishops. In 2021, she was again appointed by Pope Francis as undersecretary of the Synod of Bishops. She is the first woman to ever hold this position in the Vatican and the first woman to have voting rights in the Synod of Bishops.
Sr Nathalie is coming to Australia at the invitation of Br Mark O'Connor FMS, Vicar for Communications for the Parramatta Diocese and Pope Francis Fellow at Newman College, University of Melbourne.
"Newman College has a long history of bringing out the best international speakers to Australia to inspire and bring people closer to Christ. The Dom Hélder Câmara Lecture Series at Newman College was named after the famous Archbishop of Brazil who worked tirelessly in assisting and defending the rights of the poor in Brazil," Br Mark said.
"The lecture series is a source of hope and strength for all – clergy, lay people and non-Catholics. To have Sr Nathalie as our next international guest is a wonderful occasion, and we encourage all to attend."
In Melbourne for one day only on January 31, Sr Nathalie will take part in a public forum, "Walking together: what lies ahead on the journey to a synodal Church" and deliver the Hélder Câmara Public Lecture on the topic "Towards a spirituality of synodality".
Sr Nathalie will host the same lectures in Sydney on February 3 at St Patrick's Cathedral, Parramatta as part of the "Bishop Vincent Presents" series. The events will also be livestreamed but registrations are essential.
She will also give a presentation on 'Synodality as Mission' in Adelaide on February 1, The Southern Cross reports.
Details and registrations: https://parracatholic.org/srnathalie/.
For Adelaide bookings: www.adelaidediocesanassembly.org
FULL STORY
The Vatican's most influential female is coming to Australia (By Anita Sulentic, Catholic Outlook)
International speaker (The Southern Cross)