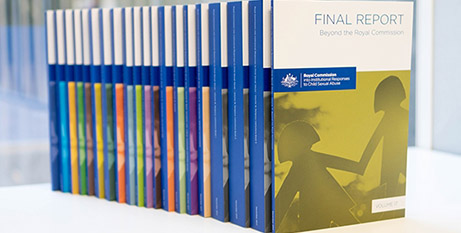 Five years on from the final report of the Royal Commission into Institutional Responses to Child Sexual Abuse, the lived experiences of "forgotten Australians" must be recognised and acknowledged, writes Ursula Stephens. Source: ACSL.
When the royal commission presented its final report in 16 volumes in December 2017, its findings highlighted abuse, cover-ups, failures of leadership, a careless disregard for some of the most defenceless members of our community, and the life-long implications of the trauma they endured.
The Catholic Church, among other institutions, acknowledged these failings and committed to honouring the recommendations of the Royal Commission.
Volume 6 of the report outlines how child safeguarding standards and regulatory oversight make organisations safer for children.
The National Catholic Safeguarding Standards apply safeguarding practices to the Catholic context and align with the National Principles for Child Safe Organisations endorsed by the Council of Australian Governments in 2019.
With the launch of the revised National Catholic Safeguarding Standards, which now include the safety of adults at risk, we are acknowledging again that the trauma of abuse manifests itself through different life stages, and that many of those who were in institutional care in their formative years are now accessing aged care services.
Those "forgotten Australians" are often adults at risk, in our ministries and services, their lived experience of abuse and trauma must be recognised and acknowledged.
Their experience reminds us that the legacy of abuse is intergenerational trauma, and that our responsibility is to advocate for a culture of safeguarding in every organisation in which we participate, so that this can never happen again.
Dr Ursula Stephens is chief executive officer of Australian Catholic Safeguarding Ltd.
FULL STORY
Reflection: Five years on from the Royal Commission into Institutional Responses to Child Sexual Abuse (By Ursula Stephens, ACSL)