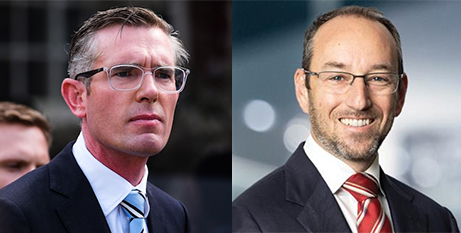 ClubsNSW has fired its chief executive, Josh Landis, after he triggered a political firestorm by linking New South Wales Premier Dominic Perrottet's Catholic faith to his gambling crackdown. Source: Sydney Morning Herald.
The organisation's board fired Mr Landis with immediate effect yesterday afternoon, less than 24 hours after he said the Premier's pursuit of cashless gaming cards was motivated by his "conservative Catholic gut" rather than evidence.
The comment sparked an unlikely alliance of cabinet ministers, independent MPs, religious groups, unions and NSW Labor leader Chris Minns to call for Mr Landis' scalp.
In a joint statement, the six-person ClubsNSW board led by rugby league and business identity George Peponis said it had met and after "careful consideration" decided to end his employment immediately.
Mr Perrottet has been the driving force behind a push to turn the state's 90,000-plus poker machines cashless and remains locked in negotiations with his colleagues over the policy, which is expected to be released this month.
As the storm grew on Tuesday morning, Mr Landis initially argued he "misspoke", but as the threat to his career intensified, he contacted Mr Perrottet to apologise and also issued a public statement.
"I want to make it clear that in answering the question I misspoke and should not have referred to the Premier's faith," Mr Landis said in the statement.
Mr Perrottet on Tuesday said Mr Landis' comments were "incredibly inappropriate and offensive" to people of faith across the state.
FULL STORY
'Incredibly inappropriate and offensive': ClubsNSW boss sacked over Perrottet remark (By Lucy Cormack, Tom Rabe and Alexandra Smith, Sydney Morning Herald)
RELATED COVERAGE
ClubsNSW CEO sacked over comments linking premier's religion to gaming policy (9news.com.au)