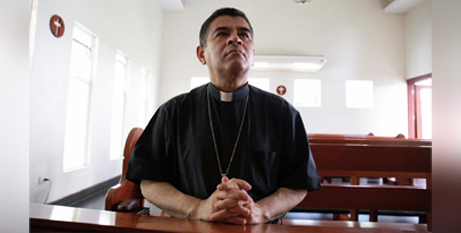 Nicaragua's Ortega Government sentenced Matagalpa Bishop Rolando Álvarez Lagos to 26 years and four months in prison on Friday, accusing him of being a "traitor to the homeland". Source: CNA.
The sentence came just one day after the dictatorship deported 222 political prisoners to the United States.
Bishop Álvarez refused to get on the plane with the deportees, President Daniel Ortega said on Thursday.
The sentence read on Friday by Judge Héctor Ernesto Ochoa Andino, president of Criminal Chamber 1 of the Managua Court of Appeals, states: "The defendant, Rolando José Álvarez Lagos, is held to be a traitor to the country.
"Let it be declared that Rolando José Álvarez Lagos is guilty of being the author of the crimes of undermining national security and sovereignty, spreading fake news through information technology, obstructing an official in the performance of his duties, aggravated disobedience or contempt of authority, all committed concurrently and to the detriment of society and the State of the Republic of Nicaragua."
According to the sentence, Bishop Álvarez was stripped of his Nicaraguan citizenship and must be imprisoned until April 13, 2049.
The bishop refused to be deported to the US on Thursday with 222 Nicaraguan political prisoners, including four priests. The deportees were flown to the US in an agreement with the US State Department.
Bishop Álvarez decided to stay to accompany the Catholics who are suffering the repression of the dictatorship in Nicaragua.
FULL STORY
Nicaragua's dictatorship sentences Bishop Rolando Álvarez to 26 years in prison (By Hannah Brockhaus, CNA)
RELATED COVERAGE
Bishops around the world condemn unjust persecution of the Church in Nicaragua (Vatican News)