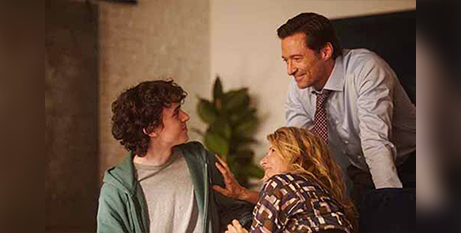 In The Son, Hugh Jackman shines in this British-American drama about a father's attempt to reunite with his teenager after a marital break-up. Source: Jesuit Media.
The film is directed from a screenplay written by Florian Zeller and Christopher Hampton, and is based on Zeller's 2018 stage play of the same name.
This is the most recent movie in Zeller's series of family dramas that began with Isabelle Huppert's portrayal of The Mother (2019), and The Father (2020), starring Anthony Hopkins, who also acts in this film.
Jackman was nominated for Best Actor in a Motion Picture – Drama at this year's Golden Globes Awards for his performance as Peter Miller, a middle-aged New York legal attorney previously married to Kate (Laura Dern), with whom he shares a son, Nicholas (Australian Zen McGrath). Kate shows up unexpectedly to express concern about the behaviour of their troubled son. Peter is trying to balance life with the needs of his current wife, Beth (Vanessa Kirby), and his new-born infant son, and the demands of his career.
The plot is complex, depicting the struggle of a family that wants to reunite after falling apart. Nicholas is a deeply troubled teenager. He no longer feels he can stay with his mother; he has been missing from school for months; and he is angrily roaming the streets of New York. Peter tries to correct the wrongs that he knows he has committed in the past in the fractured relationship he formed with his son during his marriage to Kate.
Peter reaches out to correct his past mistakes, but fails to grasp how to cope with Nicholas' needs now, and the more he tries, the more Beth feels she and her infant son are being ignored.
The movie at times makes for uncomfortable viewing in its portrayal of mental health issues. It veers at times towards melodrama, but portrays the physical and psychological difficulties of parenting. Jackman powerfully communicates a parent's mental anguish –it is the best acting performance of his career.
Reviewed by Peter W Sheehan, Jesuit Media
The Son: Starring Hugh Jackman, Laura Dern, Vanessa Kirby, Zen McGrath and Anthony Hopkins. Directed by Florian Zeller. Rated M (Suicide and self-harm references and coarse language). 123 min.
FULL REVIEW
The Son (Jesuit Media via Australian Catholics)