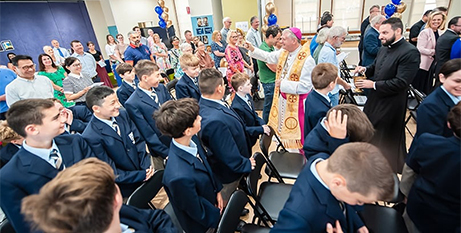 Sydney Archbishop Anthony Fisher OP officially opened and blessed Australia's first liberal arts school for boys, encouraging it to become a place that will produce "the saints Sydney needs in this 21st century". Source: The Catholic Weekly.
In declaring Daceyville's Hartford College open, he said he looked to the college to work with its students and families to make heroes who serve and make a difference.
He described the school's motto, "Dare to Think, Dare to Know", as fitting in well with the idea of pursuing truth with courage, passion, and a sense of adventure.
"In addition to being pioneers in this institution, you are part of a long line of truth-seekers, of virtue-cultivators and faithful-disciples," Archbishop Fisher said.
"With the guidance of your dedicated teachers, mentors, and parents, you will share in the fruits of a liberal arts education, one informed by faith and reason and the best of our civilisation, and so be given the greatest chance to flourish as a human person."
Hartford College is Sydney's newest independent Catholic school for boys. It aims to raise men of character who have the faith, virtue, and technical proficiency to make a difference in the world by "not only pursuing truth but also embodying it".
The college features small class numbers and individual mentoring of students in partnership with parents, along with a focus on fostering academic excellence with the development of the student's character and faith.
FULL STORY
Hartford College continues line of truth-seekers in education (By Debbie Cramsie, The Catholic Weekly)