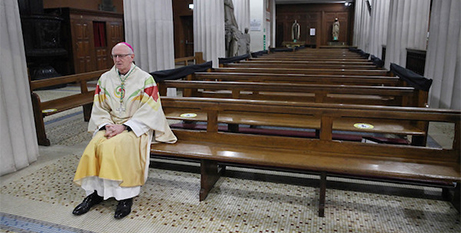 A row has erupted between Dublin City Council and the Archdiocese of Dublin over the listing of a number of churches and parish halls, currently in active use, for residential development. Source: The Tablet.
The archdiocese has contested the designation of the 32 properties as residential zoned land, which means they are liable for a new vacant buildings tax if they are not developed for housing.
At the weekend, Dublin Archbishop Dermot Farrell decried the council's zoning of the 24 churches and eight parish halls for housing as "an extraordinary attack on the Catholic faith".
He said the churches are not vacant and are used every day for worship, for daily Mass, for funerals, for weddings and for Sunday Masses.
The 32 church properties were designated for housing in draft maps that Dublin City Council published last November.
However, Archbishop Farrell said that he only became aware of the move accidentally over the Christmas period.
"There was no consultation whatsoever with the archdiocese," he said.
"I would certainly hope that they would see the wisdom in reconsidering the decision. They are the only council in the country that has taken such an action."
The residential zoned land tax is due to come into effect in 2024 as part of the Government's efforts to free up land for development amid a housing crisis.
The new tax will see a levy of 3 per cent imposed on the market value of a property that remains vacant or undeveloped despite being zoned for housing.
According to the council, the draft residential zoned land map was based on the 2016 Dublin City Council development plan, under which churches were zoned residential.
FULL STORY
Archbishop criticises residential 'zoning' of church buildings (By Sarah Mac Donald, The Tablet)