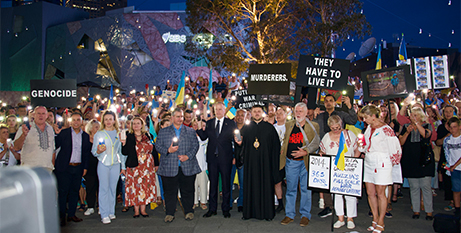 An ecumenical day of prayer and fasting for peace in Ukraine was held in the Ukrainian Eparchy of Saints Peter and Paul of Melbourne on Friday – the first anniversary of the Russian invasion.
During this day, many parishes together with the clergy and the faithful scattered throughout Australia, New Zealand and Oceania, were united in this special prayer. Representatives of the clergy of different churches and denominations also joined the prayer.
The prayer day began with a moleben (a service of supplication) to the Most Holy Theotokos (Our Lady) in the Sts Peter and Paul Cathedral in Melbourne. Ukrainian Eparch Bishop Mykola Bychok led the service. He was joined Melbourne Archbishop Peter A. Comensoli, Melbourne Anglican Archbishop Philip Huggins, Syro-Malabar Bishop Bosco Puthur, Greek Orthodox Bishop Evmenios Vasilopoulos, Ballarat Bishop Paul Bird, Sandhurst Bishop Shane Mackinlay, Sale Bishop Gregory Bennet, Melbourne auxiliary bishops Martin Ashe and Tony Ireland as well as priests, deacons and many faithful.
During the sermon, Bishop Bychok said February 24, 2022, was a day that "changed the lives of all Ukrainians, and the whole world".
"During the course of the past year, cities such as Bucha, Irpin, Borodyanka, Mariupol, Izyum, Kharkiv, Kherson, Bakhmut became famous just for one reason – the excessive cruelty of Russia to the innocent citizens of Ukraine. After that, Ukrainians had many questions: Why can another state freely kill our people? Where is justice? Why do innocent children suffer? Where is God in this war?"
Bishop Bychok noted: "Amid tragedy, if you want to find God, look where the suffering is. God is there suffering with us. This is the message of the Incarnation that God is with us. So don't look at the heavens and shake your fist. Look at the dirt and the earth. And dig your hands in. For that is where God is, with us in the midst of it all."
A candlelight vigil was held that evening in Federation Square in central Melbourne and a number of buildings were illuminated with yellow and blue colours, including Federation Square, the Royal Exhibition Building, Melbourne Town Hall and the National Gallery of Victoria.
FULL STORY
Ecumenical prayer for peace in Ukraine (Ukrainian Eparchy)