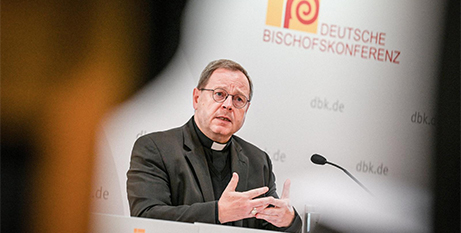 Controversy over the Synodal Path initiative for Church reform has overshadowed the German bishops' spring plenary, which began in Dresden on Monday. Source: The Tablet.
Shortly before the conference met, five delegates of the reform initiative resigned, among them the city dean of Bonn, Fr Wolfgang Picken, the Cologne archdiocesan clergy's representative in the Synodal Path.
At the opening of the plenary, the apostolic nuncio to Germany, Archbishop Nikola Eterovic, informed the German bishops that he had been officially commissioned to define more precisely the Vatican's "no" to the German Synodal Path's plans to establish a "synodal council", in which bishops and lay persons would share in decision making.
"If the 16 January letter is interpreted correctly, not even a diocesan bishop can establish a synodal council – not at the diocesan nor at the parish level," Archbishop Eterovic emphasised.
In a letter approved by Pope Francis dated January 16, the Vatican informed the German Synodal Path initiative that it did not have the competence to establish a nationwide permanent "synodal council".
Despite the Vatican's letter, several German bishops had declared that they intended to proceed with the council project.
In his opening address, conference president Bishop Georg Bätzing informed the bishops that he had answered the Vatican letter.
In his reply he had once again described the aim of the "synodal committee" which was to prepare a "synodal council", Bishop Bätzing said.
He had also recalled that the German bishops had understood that talks between the German bishops' conference and the Vatican would continue although he conceded communication between the Vatican and the German bishops was "difficult".
Cardinal Reinhard Marx of Munich yesterday called for more courage for Church reform.
"Why is there so much fear? Why are people so worried about what might happen? Perhaps the attempts to achieve synodality which we in Germany and beyond are experiencing at the moment are the beginning of a beginning," Cardinal Marx suggested.
FULL STORY
Controversy over synodal path overshadows German bishops' plenary (By Christa Pongratz-Lippitt, The Tablet)