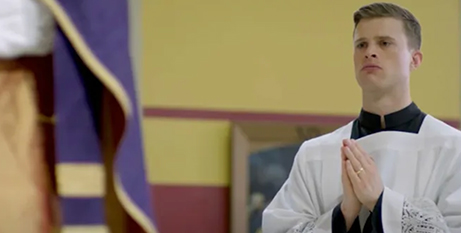 Even though Harrison Butker kicked the winning field goal in what he described as "one of the best Super Bowls ever played", football doesn't define the Kansas City Chiefs player's life. Source: CNA.
"I want to be a saint. And that's the most important thing, and that's why I'm here on this earth," Butker recently told EWTN News In Depth's Colm Flynn.
"I'm not just making kicks so that I can make money and I can puff myself up as this great person that people want to be like one day. I'm making kicks because God wants me to have a platform, at least for right now, to share this message of faith, of growing in virtue, of growing closer to the sacraments and of being a saint."
Butker, 27, is outspoken about his Catholic faith, his pro-life convictions, and his devotion to the Traditional Latin Mass, where he frequently served at the altar before becoming a father.
Butker earlier this month made the game-winning kick for the Kansas City Chiefs in the NFL Super Bowl LVII. With the score even at 35-35 and seconds remaining in the game, Butker's kick gave the Chiefs the lead over the Philadelphia Eagles, 38-35. The Chiefs secured their second Super Bowl win in four years.
During the Super Bowl, many on social media were quick to point out that during the game he was wearing a brown scapular around his neck, a sacramental from the Carmelite tradition that anyone can wear as a sign of their devotion to Mary.
He said he didn't intend for the scapular to pop out of his jersey during his game-winning kick, but the fact that it did and that numerous people on social media noticed it provided a "great witness".
FULL STORY
Harrison Butker opens up about his Super Bowl-winning kick — and his prayer routine (By Jonah McKeown, CNA)