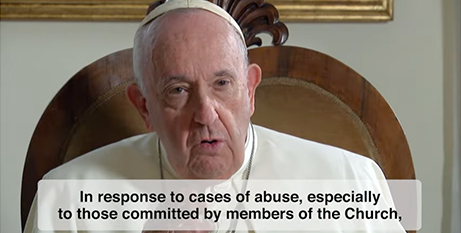 Pope Francis has dedicated this month to praying for victims of abuse, saying simply asking forgiveness is not enough, but the Church must put victims first and avoid cover-up. Source: Crux.
In The Pope Video released yesterday, Pope Francis said that in response to abuse cases, specifically abuse committed by members and representatives of the Church, "it's not enough to ask for forgiveness".
"Asking for forgiveness is necessary, but it is not enough. Asking for forgiveness is good for the victims, but they are the ones who have to be at the centre of everything," he said, saying victims' pain and psychological trauma can only heal "if they find answers – if there are concrete actions to repair the horrors they have suffered and to prevent them from happening again."
He also alluded to past cover-up of abuse, "The Church cannot try to hide the tragedy of abuse of any kind."
This also goes for abuse that happens "in families, in clubs, or in other types of institutions", he said, saying the Church must set an example in helping to solve the problem and "bring it to light in society and in families".
"The Church must offer safe spaces for victims to be heard, supported psychologically, and protected," he said, asking faithful to join him in praying "for those who have suffered because of the wrongs done to them from members of the Church."
"May they find within the Church herself a concrete response to their pain and suffering," he said.
FULL STORY
Pope Francis dedicates March to praying for victims of abuse (By Elise Ann Allen, Crux)
RELATED COVERAGE
Pope's March prayer intention: For victims of abuse (Vatican News)