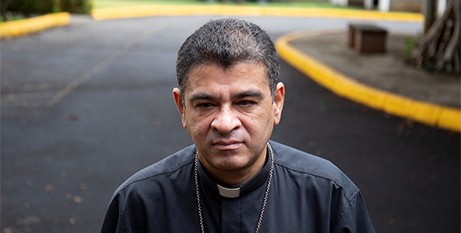 Pontifical charity Aid to the Church in Need has expressed its concern for the Church in Nicaragua and for Bishop Rolando Álvarez, who was sentenced to 26 years and four months in prison by the Daniel Ortega dictatorship. Source: CNA.
"In union with Pope Francis, who expressed his sadness and concern on February 12 after praying the Angelus, the ACN foundation asks the faithful to not forget the terrible situation that Álvarez, the bishop of Matagalpa and apostolic administrator of the Diocese of Estelí, is going through and requests prayers for him and for all those who are suffering in Nicaragua," ACN said.
Citing a report from a local media outlet, ACN warned that the regime is apparently arresting priests who mention Bishop Álvarez in their Masses, considered to be "a prohibited activity."
"At least two priests were arrested in Madriz and Nueva Segovia for mentioning or praying for the bishop during their Sunday celebrations," the statement said. Both towns are in the Diocese of Esteli.
According to Nicaragua Actual, the two priests were released hours later with the warning not to mention the bishop again.
"For all these reasons, given the attempt to silence the prayers of the Nicaraguan people, ACN asks benefactors around the world to further redouble their prayers for the Nicaraguan Church," the foundation urged.
In August 2022, Regina Lynch, ACN's director of international projects, said she was already observing "an attempt to silence the Church in Nicaragua."
One of the latest low points in the Nicaraguan dictatorship's persecution of the Church was the February 9 sentencing of Bishop Álvarez to 26 years and four months in prison as a "traitor to the homeland" convicted of "undermining national security and sovereignty" and "spreading fake news". The bishop was also stripped of his Nicaraguan citizenship.
FULL STORY
Aid to the Church in Need 'greatly concerned' about Nicaraguan bishop sentenced to prison (By Walter Sánchez Silva, CNA)