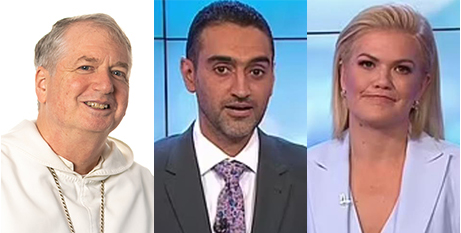 Sydney Archbishop Anthony Fisher OP has invited the boss of Channel Ten and panellists from The Project to attend Mass at St Mary's Cathedral, criticising the program's apology for a joke about Jesus as disingenuous and forced. Source: Sydney Morning Herald.
The Project's co-hosts Waleed Aly and Sarah Harris apologised after the program faced backlash for a joke made on-air by comedian Reuben Kaye last week.
In a letter addressed to Paramount and Channel Ten boss Beverley McGarvey on Friday, Archbishop Fisher said The Project had "little understanding" of the importance of the Easter season.
"The apology offered on the episode of The Project aired on Wednesday 1st March, came across as forced and insincere," Archbishop Fisher said.
"One gets the impression that the panellists are either unaware or indifferent to the hurt they have caused not only to Christians but people of faith throughout the nation.
"Moreover, the apology was not posted on The Project Facebook page yet the video clip containing the offensive remarks is still available for viewing."
While the studio audience and some presenters reacted with laughter at the time, the program was slammed by some religious believers on social media.
Archbishop Fisher said he was disappointed with the public mockery and the fact the joke appeared to be endorsed by members of the panel. He invited Mr McGarvey, the panellists and producers of the program to attend Mass – specifically the Easter ceremonies on Good Friday or Easter Sunday – to better understand religious faith.
"That a 'news and current affairs' program would so flagrantly mock the beliefs of more than half of all Australians is extremely upsetting and frankly incredible," he said.
In a statement, a Channel Ten spokesperson said: "We won't be commenting."
FULL STORY
'Forced and disingenuous': Catholic Archbishop invites The Project to church (Sydney Morning Herald)
RELATED COVERAGE
Sydney Catholic archbishop Anthony Fisher invites The Project to church (The Australian)
'Worst show on television': Priest lashes Project in Sunday homily (News.com.au)