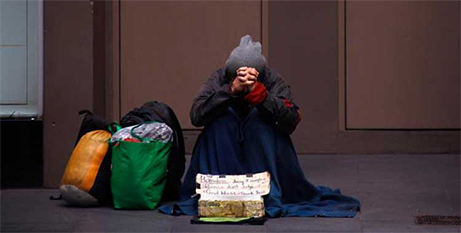 Catholics are being urged to speak up for the homeless and lobby for a continuation of federal funding that provides support workers for those seeking shelter. Source: The Catholic Leader.
The Brisbane Archdiocesan Justice and Peace Commission (BAJPC) is calling on Catholics to contact their local federal MPs to demand a continuation of Commonwealth Equal Remuneration Order Funding, due to cease on July 1.
The ERO funding provides hundreds of specialist homelessness support workers around the country. They assist the most vulnerable who are in need of shelter.
"All Australians deserve the right to safe housing, which is at the heart of individual and family wellbeing," BAJPC chair Elizabeth Fort said.
Ms Fort said the commission was particularly concerned that hundreds of calls for assistance are turned away each day.
"Funding needs to continue at least at the current level as the calls for help will only grow as the increasing cost of living and housing crisis expands.
"We cannot ignore the pleas of those without a home and shelter," she said.
"As loving Christians, we need to contact our federal Government members and call strongly for a continuation of Commonwealth Equal Remuneration Order Funding.
The St Vincent de Paul Society has also demanded a continuation of ERO funding.
FULLS TORY
Urgent call to support homelessness services fund (By Mark Bowling, The Catholic Leader)