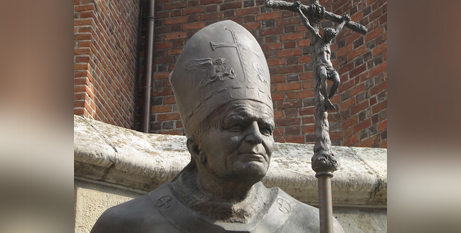 Polish Church leaders have reacted angrily to new claims that St John Paul II covered up clerical sexual abuse while serving as Archbishop of Krakow before his papal election and vowed to "defend his good name". Source: The Tablet.
"We owe Poland's freedom and the freedom of our consciences to St John Paul II – he was like our compass in the midst of a historical storm, and he would want the truth from us today, established by in-depth research not unreliable media reports," Archbishop Stanislaw Gadecki, president of the bishops' conference, declared in a statement on Sunday.
"I can testify that no one felt the suffering and dignity of human beings with such sensitivity and I declare once again that the Church in Poland will continue to help wounded people with the same care. But we will also persistently defend John Paul II's good name."
The Poznan archbishop was reacting to allegations against the late Polish pontiff last week in a commercial TV program and separate book.
Meanwhile, Poland's former Catholic primate said St John Paul II had responded to problems in line with Gospel and Church traditions, setting "high requirements that did not suit everyone", adding that it was an anachronism and "falsification of truth" to judge his intentions or "apply contemporary restrictive recommendations" to a past era.
"No one contributed more than St John Paul II to changing reality in Poland, Europe and the world," said 89-year-old Archbishop Henryk Muszynski.
"Faced with this latest highly publicised anti-Church campaign, directed primarily against him, I see the strange mystery of evil which contradicts the Gospel and is aimed at those who clearly rise above mediocrity."
The program, by director Marcin Gutowski, aired last week. Two days later, Maxima Culpa was published by Ekke Overbeek, a young Dutch journalist living in the southern city.
Both claimed to have uncovered proof the then Archbishop Karol Wojtyla knowingly concealed clerical abuse while heading the archdiocese in 1964-1978.
FULL STORY
Polish Church condemns abuse charges against John Paul II (By Jonathan Luxmoore, The Tablet)