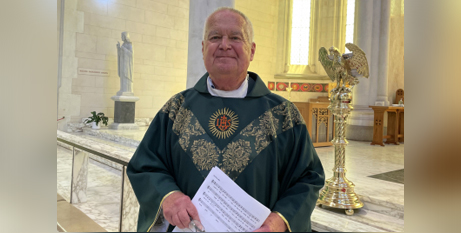 Not many priests can say they've concelebrated Mass at a cathedral while a Mass setting they have composed is making its debut – but Jesuit Fr Christopher Willcock can. Source: Sandpiper.
Fr Willcock's composition was recently sung publicly for the first time at Sacred Heart Cathedral, Bendigo.
The priest was commissioned to compose a Mass setting for the Sandhurst Diocese and Sacred Heart Cathedral parish by an anonymous supporter. Heeding Pope Francis' Laudato Si' call to find ways to creatively give praise and thanks for God's Creation during the celebration of the Eucharist, Fr Willcock titled the Mass setting, Mass: Our Common Home.
Fr Willcock wanted to foster congregational participation in the Mass, so he underpinned most of the composition with the melody of a pre-existing Welsh composition, HYFRYDOL. Using a melody that already sits in the collective memory of many church-goers aims to foster more participation in the music of the Mass and more uptake of the Mass setting locally and beyond.
Fr Willcock has an international reputation as an outstanding composer of liturgical music during the post-conciliar era. He has written several hundred compositions, both for the Church and the concert platform. Last year, Fr Willcock was awarded an honorary doctorate from Australian Catholic University for his services to liturgical music within the Church.
FULL STORY
New Mass Setting evokes Care for Our Common Home (Sandpiper)