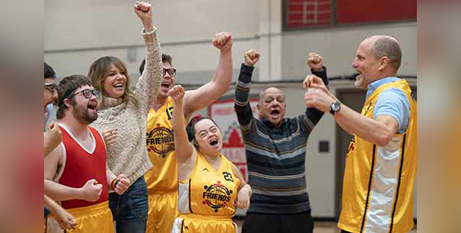 In Champions, an aggressive basketball coach caught drink-driving is sentenced to 90 days of community service – coaching a group of people with disabilities. Source: Jesuit Media.
The film is based on a true story and was first filmed in Spain as Campiones. Now the action is set in the US city of Des Moines. Woody Harrelson is Marcus, the assistant basketball coach sentenced to community service after hitting a police car while driving under the influence.
As part of his community service, Marcus is shocked to learn he is to coach a group of young men who are intellectually disabled.
One of the strengths of the screenplay is that, unlike a number of films that present a team and the members seem to be interchangeable without much character development, these men are distinctive – we learn their names, their backgrounds, their disability, the kinds of jobs that they are able to do, their moments of awkwardness, their love for basketball, the learning to play as a team.
The film has the competition element so familiar with movies about sports teams. The team displays some skill as they win matches and head toward participating in the Special Olympics.
Review by Fr Peter Malone MSC, Jesuit Media
Champions: Starring Woody Harrelson, Madison Tevlin, Joshua Felder, Kevin Iannucci, Ashton Gunning, Matthew Von Der Ahe, Tom Sinclair, James Day Keith, Alex Hintz, Casey Metcalfe, Bradley Edens, Kaitlin Olsen, Matt Cook, Cheech Marin, Ernie Hudson. Directed by Bobby Farrelly. 123 minutes. Rated M (Crude humour and coarse language).
FULL REVIEW
Champions (Jesuit Media via Australian Catholics)