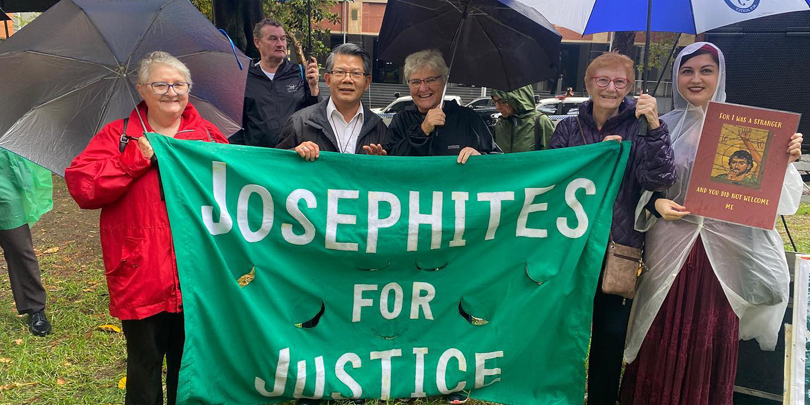 Hundreds of activists gathered at Palm Sunday rallies around the country yesterday to demand the Commonwealth give permanent visas for refugees stuck in limbo. Source: SBS/AAP.
Protesters in Sydney, Canberra and Melbourne held placards reading, "Permanent visas for all" and "10 years too long" and accused the Government of "using refugees as political prisoners".
Rallies were also planned for other capitals and major regional centres.
Advocates lauded the Government's decision in February to grant permanent residency visas to 19,000 asylum-seekers on temporary protection visas, according to the Refugee Council of Australia.
But they said it had left about 12,000 other refugees and asylum-seekers who were rejected under the previous government's fast-track process on bridging or expired visas.
Included in the group are more than 1000 refugees who have been transferred from offshore detention camps in Nauru and Papua New Guinea to Australia with no pathway towards permanent resettlement.
Refugee Action Coalition spokesman Ian Rintoul said the Albanese government had also maintained the former Liberal government's ban on accepting more than 7000 refugees from Indonesia.
He said many of the asylum-seekers left on bridging visas are victims of Australia's foreign policy failures in Iraq and Afghanistan and Sri Lanka.
FULL STORY
'Political prisoners': Palm Sunday protesters demand visas for refugees stuck in limbo (SBS/AAP)