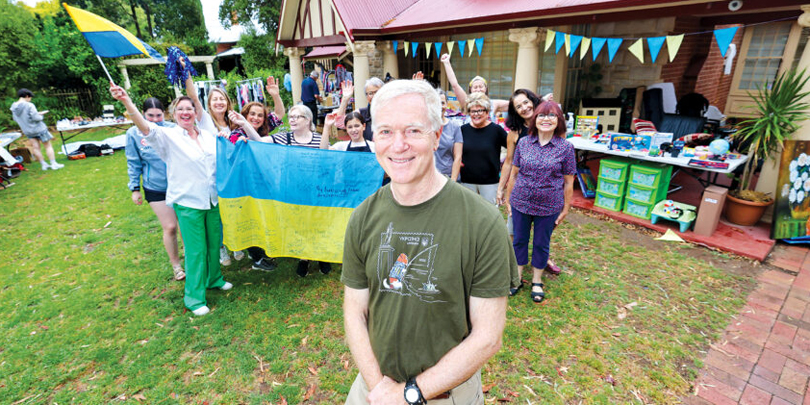 Members of an Adelaide Catholic Women's League group have been raising money for local parishioner Maurice O'Connell, who recently returned to Ukraine to continue volunteering for a local aid organisation. Source: The Southern Cross.
Mr O'Connell has seen extreme hardship and suffering since he began volunteering in the port city of Odesa.
"I have a lot of painful memories," he said before he returned to Ukraine last month to continue his work with local humanitarian group New Dawn.
"Seeing Mariupol orphans at an Odesa orphanage, seeing grown men cry as they tell their stories of loved ones who were killed, some deliberately, villages in which every single house has been destroyed or damaged. Deep pain etched into people's faces."
But Mr O'Connell, who spent his childhood in Adelaide and retired there after a career in finance and banking, said war also brought out the best in people. For him, the greatest example of this is the "dedication of the Ukrainians helping Ukrainians at New Dawn".
Such acts of kindness and generosity were also evident when he attended a garage sale organised by the Catholic Women's League (CWL) Next Gen group at the Hawthorn home of one of its members.
The group, most of whom are part of Adelaide's Emmaus Catholic parish, wanted to support their fellow parishioner and the New Dawn volunteers.
CWL Next Gen secretary Belinda Carrabs said the garage sale and raffle was a great success and raised more than $7000. A few weeks earlier,
Mr O'Connell spoke to parishioners in the church hall about his experience, prompting parishioners to give generously. Previous fundraisers included fried rice and "coffee connect" stands at the parish's mini food market.
"After all of these efforts we, CWL Next Gen, and the generous Emmaus parish have been able to donate more than $8200," she said.
FULL STORY
Finding light in darkness of war (By Jenny Brinkworth, The Southern Cross)