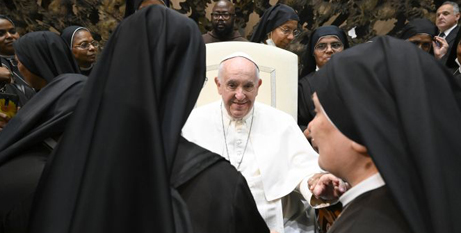 Pope Francis has amended canon law to give members of institutes of consecrated life more time to appeal a dismissal. Source: CNA.
The motu proprio delivered yesterday, changed norms in the law of the Latin Church and the Eastern Churches.
The Pope said that the current time periods stipulated for appeal of a dismissal from consecrated life "cannot be said to be congruent with the protection of the rights of the person".
"A less restrictive mode of the terms of transmission of the appeal would allow the person concerned to be able to better evaluate the charges against him, as well as to be able to use more appropriate modes of communication," he added.
Pope Francis changed canon 700 in the Code of Canon Law to give a person 30 days to lodge an appeal from the day of receiving the notification of the decree of dismissal. It formerly gave 10 days. There is also no need to request in writing the revocation or correction of the decree, the motu proprio said.
The equivalent law in the Code of Canons of the Eastern Churches, canon 500 paragraph 2, has been changed from 15 days to 30.
The amendments enter into force on May 7.
In the motu proprio's preamble, Pope Francis cited the 1983 commentary on the Acta Apostolicae Sedis, which says, in English, "it is expedient that the rights of persons may be properly defined and secured".
"This was the sixth general principle that the Synod of Bishops, in October 1967, approved for the revision of the Code of Canon Law and which still remains valid today," the Pope said.
The principle, he added, recognises "in the safeguarding and protection of subjective rights, a privileged place in the Church's legal system".
The safeguarding of a person's rights becomes especially relevant "in the most delicate events of ecclesial living," he said, such as a person's juridical status as a consecrated.
FULL STORY
Pope Francis extends time to appeal dismissal from consecrated life (By Hannah Brockhaus, CNA)
RELATED COVERAGE
Pope extends deadline to appeal dismissal from religious institutes (Vatican News)