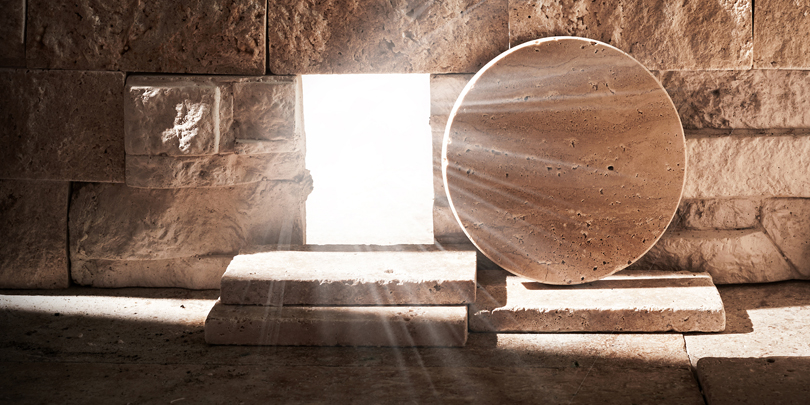 Australia's bishops have spoken of the power of Easter hope to bring Jesus' healing to the suffering, hardship and division of the world and called on the faithful to carry that resurrection hope to others.
Australian Catholic Bishops Conference President and Perth Archbishop Timothy Costelloe SDB said the joy of Easter must be shared.
"Once again, this year, the joy of Easter rings out with the cry: Christ is risen! This is the source of our hope, the unshakeable conviction of our faith, and the inspiration for our determination to bring the beauty and promise of our faith to anyone who will listen. It is a message which our society needs desperately. So do not be afraid, in whatever ways you can, to share this good news with others," he said in his Easter message.
Archbishop Costelloe said that in the face of the lasting effects of the COVID pandemic, rising interest rates and cost-of-living pressures, the war in Ukraine and the effects of climate change, many people are experiencing suffering and discouragement.
"Nevertheless, we Christians do remain people of hope. It is not, of course, a fanciful or unrealistic hope, or at least not as long as it is grounded not in ourselves and our own capacities but, rather, in God."
Sydney Archbishop Anthony Fisher OP said that in many ways contemporary societies are deeply divided.
"Our politics are often polarised and social media vicious, the language is extreme, and it's all or nothing," he said.
"We can feel that not much has changed since that first Good Friday. Angry mobs still demand crucifixion, or cancellation. There seems to be no room for debate, for listening, persuading, and being persuaded, for the good kind of compromise. It is into these deep divisions that the Easter message must be spoken anew. Easter is a season of contradictions: Violence and peace, heartache, and joy, light and darkness, death and resurrection.
"Easter calls us to end our factions and hostilities. This does not mean we should cease our pursuit of truth. But our endeavours should always reflect a respect for the other person and good will towards them. The empty tomb of Jesus was a sign of God's victory over hatred, violence, death, over everything that diminishes the human person and community. As Jesus rose glorious but still with the wounds of human cruelty, his followers are called to bring Easter redemption to every site of conflict and hurt."
Lismore Bishop Greg Homeming OCD said that across the Diocese, 2022 was a difficult year marked by floods, loss, anxieties and COVID.
"Things are not back to normal yet, but we are not burdened with the heaviness of last year. There's freedom in the air and a sense of hope," he said.
"Over Easter we celebrate the suffering, death and resurrection of Jesus Christ. His path to the cross was filled with anxiety, stress and suffering. On Easter Sunday, the one who died is resurrected. He is alive again. The heaviness of the time leading to Calvary is gone and like us, he must have a great sense of freedom and life.
"Easter invites us to experience with new freedom, what it is to be alive. Life should never be taken for granted. It should be lived with joy and gratitude. It refashions us as we look in hope to the future."
Archbishop of Canberra and Goulburn Christopher Prowse said that "at this Easter time, we can see ongoing suffering continues in the everyday lives of our beloved First Australians".
"With all wounded humanity, but especially our Aboriginal and Torres Strait Islander peoples, we unite our sufferings with the sufferings of Jesus and receive redemption in the mercy of God."
At Easter, we walk together, embracing the Resurrected Victory of Jesus, he said.
"Let us walk together with our First Australians … Then Australia will truly become the Australia God wants us to be – a Resurrected Missionary People washed clean in "the Blood of the Lamb" that lives forever in Easter hope and joy."
Read the bishops' Easter messages below:
Adelaide
Archbishop Patrick O'Regan's 2023 Easter message
Ballarat
Bishop Paul Bird's 2023 Easter message
Bathurst
Bishop Michael McKenna's Easter Message 2023
Brisbane
Archbishop Mark Coleridge's 2023 Easter Message
Broken Bay
Bishop Anthony Randazzo's 2023 Easter message
Bunbury
Bishop Gerard Holohan's Easter Message 2023
Canberra-Goulburn
Archbishop Christopher Prowse's 2023 Easter message
Cairns
Fr Kerry Crowley's 2023 Easter Message
Darwin
Bishop Charles Gauci's 2023 Easter Message
Geraldton and Broome
Bishop Michael Morrissey's 2023 Easter Message
Hobart
Archbishop Julian Porteous' 2023 Easter message
Lismore
Bishop Greg Homeming OCD's 2023 Easter message
Maitland-Newcastle Diocese
Bishop Michael Kennedy's 2023 Easter message
Maronite Eparchy
Bishop Antoine-Charbel Tarabay's 2023 Easter message
Melbourne
Archbishop Peter A Comensoli's 2023 Easter message
Parramatta
Bishop Vincent Long Nguyen OFM Conv's 2023 Easter Message
Perth
Archbishop Timothy Costelloe's 2023 Easter Message
Bishop Donald Sproxton's 2023 Easter Message
Sandhurst
Bishop Shane Mackinlay's 2023 Easter message
Sydney
Archbishop Anthony Fisher OP's 2023 Easter message
Toowoomba
Bishop Robert McGuckin's 2023 Easter message
Townsville
Bishop Tim Harris' 2023 Easter message