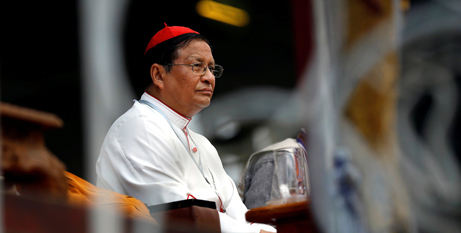 Cardinal Charles Bo of Yangon has appealed for peace and freedom in Myanmar, where tens of thousands of people, including Christians, continue to bear the brunt of an ongoing civil war between the military and ethnic rebel groups. Source: UCA News.
"As a nation and as a people, let us roll down the stones of hatred, human suffering and let the message of Jesus, the Prince of Peace, has risen ring in our hearts, in our streets and in every household in this nation," Cardinal Bo said in his Easter message on Sunday.
Just like "the stone was rolled away from Jesus' tomb, so too can the stones that weigh us down be lifted, allowing us to experience the joy and freedom of new life in Christ".
The 74-year-old cardinal said, "Let a new Paschal message be heard in this country and let my country rise again into freedom and peace".
Cardinal Bo, president of the Catholic Bishops' Conference of Myanmar, added, "We are people of life, we are people of resurrection."
The cardinal's appeal came as Myanmar's military stepped up air strikes, shelling and arson campaigns to crush rebel ethnic armed groups and the new People's Defence Forces.
Churches, hospitals and schools in Christian strongholds in Kayah, Chin, Karen and Kachin states remain prime targets for the junta as thousands of internally displaced persons have taken refuge there, while thousands more have fled to neighbouring India and Thailand.
The cardinal urged Christians to work as advocates for justice and equality, and act as peacemakers.
FULL STORY